How China's Corporate Social Credit System Impacts Your Dealings with China
Recorded On: 10/18/2021
This on-demand webinar is available for 14 days after purchase.
China's social credit system made headlines around the world as being the first comprehensive system to rate citizens behavior. Within the scheme is the corporate social credit system (CSCS). CSCS rates business' behavior using big data sourced from various government bureaus and levels from across the country, which is then compiled into one score.
The score given to Chinese companies (both foreign and Chinese owned) will not only impact their own ease of doing business, but also can impact—negatively or positively—the companies they do business with abroad.
What do businesses outside and in China need to understand about CSCS? In this webinar, Kyle Freeman, Partner of Dezan Shira & Associates, will introduce the system, how it will impact companies and what actions can be taken to reduce risk and take advantage of opportunities.
Topics:
What is China's corporate social credit system (CSCS) and how is it structured
How will CSCS impact companies
How to reduce risk and take advantage of opportunities relating to CSCS
About the Speaker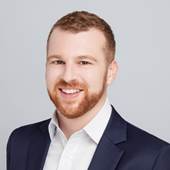 Kyle Freeman is a partner at Dezan Shira & Associates and leads the International Business Advisory team in North China as well as the firm's North American client services desk in Asia. He advises clients on market entry strategy, corporate structuring and establishment, and related tax and legal issues concerning investment in China, Hong Kong and Southeast Asia.
Prior to joining Dezan Shira & Associates, Kyle worked in government relations and China trade policy for various public and private organizations. His work included assisting in high-level U.S.-China bilateral trade dialogues and organizing public-private cooperation programs to promote U.S. and foreign investment in China.
Key:

Complete

Next

Failed

Available

Locked
How China's Corporate Social Credit System Impacts Your Dealings with China
Open to view video.
Open to view video.
China's social credit system made headlines around the world as being the first comprehensive system to rate citizens behavior. Within the scheme is the corporate social credit system (CSCS). CSCS rates business' behavior using big data sourced from various government bureaus and levels from across the country, which is then compiled into one score. The score given to Chinese companies (both foreign and Chinese owned) will not only impact their own ease of doing business, but also can impact—negatively or positively—the companies they do business with abroad. What do businesses outside and in China need to understand about CSCS? In this webinar, Kyle Freeman, Partner of Dezan Shira & Associates, will introduce the system, how it will impact companies and what actions can be taken to reduce risk and take advantage of opportunities. Topics: What is China's corporate social credit system (CSCS) and how is it structured How will CSCS impact companies How to reduce risk and take advantage of opportunities relating to CSCS